Where Can I Use Intellimali Card? (Intellicard)
The Intellimali platform is a private company that focuses on efficient payment and fund administration on behalf of the institution, employer, or sponsor, with two distinct solutions, IntelliCard and IntelliCell. Moreover, students receiving bursaries or loans from any affiliated universities receive IntelliCard, which students use to purchase different things at merchants.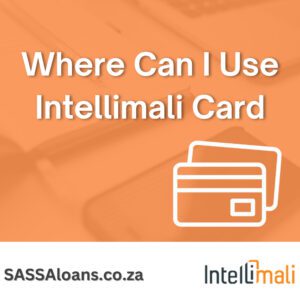 Let me tell you the places where you can use your IntelliCard:
On-Campus Stores
Many educational institutions have their own canteen or stores inside the campus that the students can use to purchase textbooks, meals, etc. The students can use IntelliCard to purchase their textbooks, stationery, or other services within the institution's premises.
Off-Campus Stores
There is also an opportunity for students to use an Intellimali card to purchase different necessities from merchants or off-campus stores selected by the educational institution where the student is enrolled. Additionally, your university will inform you about the places you can use your Intellimali card. Therefore, stay in touch with your institution or funder.
Furthermore, you can also withdraw cash from different stores or merchants, such as Shoprite, Checkers, Usave, PnP, and Boxer stores.
However, remember that the usage of IntelliCard depends entirely on the particular arrangements and partnerships between Intellimali and universities.
Therefore, use the card according to their stated purpose. In addition, the students can receive the Intellicard without spending a single penny on them and can also activate them for free.
Now the question arises, where can I use my Intellimali Card? As a student, you can use this card to purchase academic-related stuff such as meals, textbooks, and other necessities. In addition, you can purchase food and other goods from the store with the Intellimali machine without spending a single penny.
How do I use my Intellimali card?
You can effortlessly use your Intellimali card to purchase goods or withdraw cash. You simply need to hand over your IntelliCard to the merchant after selecting what you want to buy. The merchant will swipe the card on the point-of-sale machine, after which you need to provide your student PIN.
To conclude, you can use your Intellimali card to purchase different necessities, such as books, stationery, or any other essentials. However, you can only use your Intellimali card at the stores or merchants which are selected by your educational institute or funders. Therefore, before purchasing, consult your institution's guidelines.
Furthermore, remember that the Intellimali card's acceptance depends on the agreements and collaboration between Intellimali and educational institutions or funders.