Guide to Write an Affidavit for NSFAS Application
An affidavit is a legal document used to declare and affirm the truth of certain facts or information. In the context of NSFAS (National Student Financial Aid Scheme), an affidavit requires applicants to provide information about their financial status, specifically to confirm their family income and expenses. This article will discuss the importance of an affidavit for NSFAS and how to prepare one.
NSFAS is an excellent way of pursuing your dreams and studying in ideal universities. However, many applicants need more knowledge about the affidavit for NSFAS and its documentation process. Don't stress out yourself because this guide has all the necessary information for NSFAS applicants, especially those applying for the first time. Keep reading this article to know every detail about the affidavit for NSFAS.
Why is an Affidavit Required for NSFAS?
NSFAS is a financial aid scheme provided to eligible students enrolled in public universities or TVET colleges in South Africa. The purpose of NSFAS is to provide financial assistance to students who come from disadvantaged backgrounds and cannot afford to pay for their studies.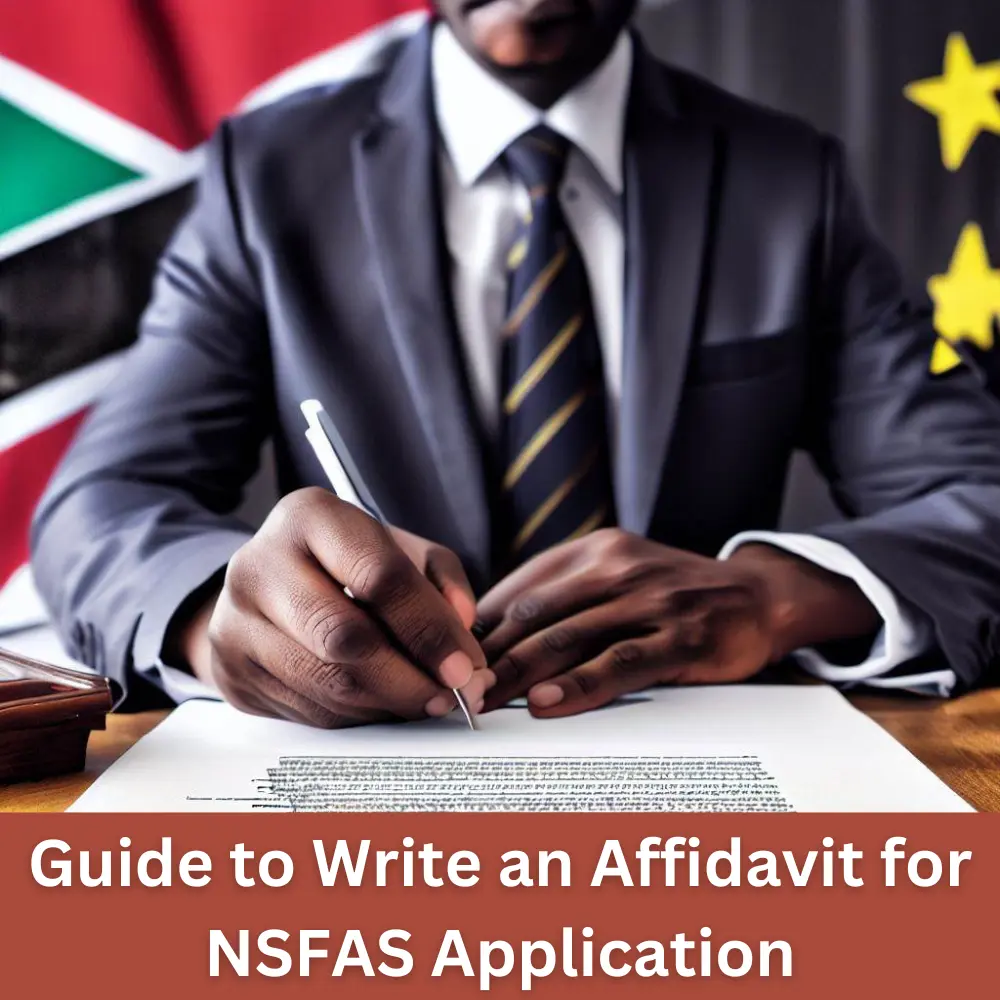 To ensure that financial aid is given to those who truly need it, NSFAS requires applicants to provide detailed information about their financial status. This includes information about the applicant's family income and expenses and any other sources of financial support they may have.
An affidavit is an important document used to confirm the information the applicant provides. It is a legal document that is sworn to be true and accurate and used to provide evidence of the applicant's financial status. Here's how you can prepare an affidavit for NSFAS.
How to Prepare an Affidavit for NSFAS?
Preparing an affidavit for NSFAS is a seemingly difficult task. I was stressed out when I applied for it, but you don't have to worry because I will share all the important information and steps here to make this task a child's play for you. Here's how I prepared my affidavit for NSFAS.
Follow the steps below, and you will be done in a few minutes.
Step 1 (Collect Information)
In the first step, I collected all the necessary information that would be included in my affidavit. This includes information about the family's income, expenses, and any other sources of financial support. Moreover, the applicant should also include relevant documentation, such as pay slips or bank statements, to support their claims.
Step 2 (Draft the Affidavit)
Once all the necessary information has been collected, you can move on to the next step, i.e., to draft the affidavit. The affidavit should include a statement declaring that the information provided is true and accurate to the applicant's knowledge. The applicant should also include all the information they have collected clearly and concisely.
Step 3 (Swear the Affidavit)
After drafting the affidavit, I took it to a commissioner of oaths, and you should too. This can be a lawyer, notary public, or anyone authorized to administer oaths. The commissioner of oaths will ask the applicant to swear that the information in the affidavit is true and accurate. Once the applicant has sworn the affidavit, the commissioner of oaths will sign and stamp the document.
Step 4 (Submit the Affidavit)
The final step is to submit the affidavit to NSFAS. The applicant should attach the affidavit to their application form and submit it. Take your time because the affidavit goes with other required documentation. Before submitting your affidavit, check if you have attached all the required documents with the application.
According to my experience, they ask for a copy of your ID, and if you are under 16, you can attach your birth certificate and a copy of your parent's or guardian's ID. Make sure you have attached these with your application.
Affidavit for NSFAS SASSA and Non-SASSA Applicants
Surprisingly, only a few people know that NSFAS asks for some supporting documents from SASSA applicants that are different from non-SASSA applicants. I also found it while processing my affidavit for NSFAS. Here's the information I got about NSFAS regarding SASSA and non-SASSA applicants.
If anyone from your family, like parents or spouse, is getting a SASSA grant, you need to submit a letter from SASSA with the NSFAS application. If you are from a family that is not taking any social grant like SASSA, then you will provide them proof of your parents/guardian/spouse's income. You can attach their pay slip with your form. If your parents/guardian/spouse is not working, you must attach a copy of the UIF letter.
Additional Documents
Besides all the documents mentioned above, there are some additional documents that many applicants need to include. I am mentioning them below. Ensure you attach them with your application to return home without worrying about getting any missing document notifications from the concerned department.
A signed affidavit from your parents, guardian, or spouse if they work in the private sector.
Death certificate of the parent if any one of them is deceased.
If your parents are divorced, then you need to provide them divorce decree.
A signed affidavit if you are not living with your parents or someone else supports you.
A copy of the court order for legal guardianship if a guardian is raising you.
A bank statement if your parents/guardian are retired.
An affidavit is an important document that NSFAS requires to confirm applicants' financial status. It is a legal document that is sworn to be true and accurate and used to provide evidence of the applicant's financial status. Following the steps outlined above, applicants can prepare an affidavit that accurately reflects their financial situation and increases their chances of receiving financial aid from NSFAS.
Conclusion
All those struggling with the affidavit process for NSFAS, feel free to take help from our article. We have explained every step in detail and tried to keep things as simple as possible to make things understandable, even for the first timers. I hope our guide helps you write and submit an affidavit for NSFAS. Thank you for your time.