How to Appeal for NSFAS Application in 2023?
Did NSFAS reject your allowance application? You should not lose hope because I will show you how to get a second chance. If your application is rejected, you can still appeal to NSFAS to reevaluate your application.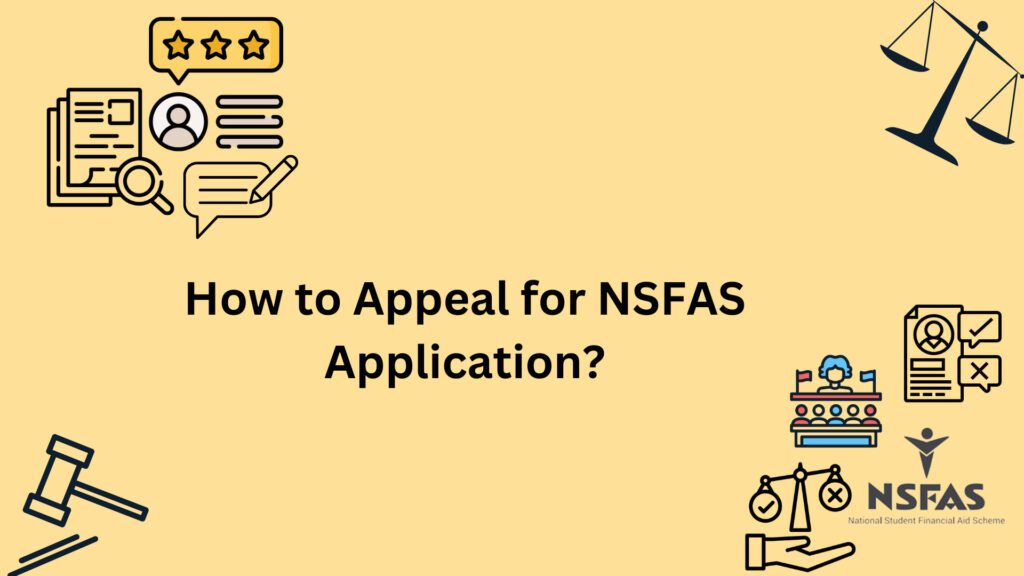 Appeal for NSFAS
The National Student Financial Aid Scheme, or NSFAS, is a South African bursary scheme. This scheme lends money to undergrad students to cover their higher education expenses.
Higher education is very expensive for poor and working-class students in South Africa, so if you do not get a scholarship, it gets really hard to continue your studies. But you can still appeal for NSFAS if your application gets rejected.
This allowance helps pay students' tuition, registration, transport, accommodation, learning materials, and personal care expenses. After completing your degree, you must pay back the NSFAS allowance when employed.
Understand Reasons for NSFAS Application Rejection
You might be wondering why NSFAS did not accept your application. The answer is that NSFAS checks your eligibility by evaluating your documents and financial state. They check if your documents are complete and verified, or if your grades are according to the set criteria or not.
After the documents are completed, your finances are checked. They confirm if you have given the correct information and if your household income meets the limit. They will consult your institute to see if they have a seat for you. They will confirm your South African citizenship. Moreover, you must sign their bursary agreement. Otherwise, they will not accept you.
When Should You Not Appeal?
The appeal is only for those students meeting the criteria but still did not get the allowance due to some personal or NSFAS error. You can get a rejection message at any point if you have not given the correct information. Therefore, do not appeal if you fit any of the following points.
You are not a South African citizen.
Your household total and complete income exceed the limit set by NSFAS.
Your documents are flawed.
A university or TVET college did give you admission.
You were funded for an earlier qualification.
NSFAS does not accept the course you have applied for.
When Can You Appeal?
There are certain situations where NSFAS will consider your reasons. In case you have a genuine reason for not fulfilling the criteria, then NFAFAS might give you a chance. If you fall under the following conditions, you should appeal.
On condition that your grades are not up to the mark, but your previous academic record is good, then NSFAS will consider the reasons like death or trauma in immediate family or illness.
There is a reduction in your total and complete household income, which now matches the income level set by NSFAS.
If you were getting a bursary scheme previously but now you lost it.
NSFAS does not have your correct academic results.
Unlike your previous year, if you have improved your academic results to match the criteria, it would be best to appeal to get the allowance again.
Unlike your previous one, if you are reapplying for a course that NSFAS accepts.
Note that you must submit solid proof to support your reasons in the above situations.
NSFAS Appeal Process
If you believe you are eligible and meet the criteria, you should appeal for reevaluation. First, check your application status; if it says 'unsuccessful,' you must appeal within 30 days. NSFAS allowance 2023 appeals will close soon. So, the closing date is 20th February 2023. Here is how you can appeal using your myNSFAS portal.
First, visit this link my.nsfas.org.za.
Then, you will see the 'application progress tab.' Click it.
Then, check the progress of your application and see if it says 'unsuccessful' or not.
You must click the 'submit appeal' tab if it is unsuccessful.
After this, you will be redirected to the application appeal page, where you can see the reasons for your application rejection.
Then, you will choose a reason for appeal.
You must write a letter to them telling them how much you need this allowance. Your letter should be no longer than 1000 characters.
Then, attach all of the supporting documents. Your documents must be verified and authentic otherwise; they will reject again. Documents must be in PDF, PNG, or JPEG. NSFAS does not accept word docs and documents more than 5 megabytes.
Finally, press on the 'submit appeal' tab. You can track your appeal on myNSFAS account.
NSFAS Appeal for Continuing Students
Continuing students can also appeal if they are not receiving an allowance or NSFAS did not select their application. They can consult their institution's Student Support Office for a closing date. All universities have an appeal committee that will consider your appeal and recommend you to NSFAS. Senior or continuing students can appeal to the Financial Aid or Student Support Office.
To proceed with the appeal, visit your institution's website or myNSFAS website.
Download the student appeal form from there. You must fill in the form completely with correct and authentic information.
Afterward, attach an affidavit and complete supporting documents. Make sure your documents are verified.
In the end, write a letter.
Your letter should have all the details. Write your reasons for appealing for the allowance. Mention your financial status and how much you are dependent on this allowance. Explain how you will not be able to continue your higher studies if you do not get approved.
FAQs
How long does NSFAS appeal take?

It usually takes 30 days for NSFAS to respond to your appeal.

Does NSFAS accept appeals through email?

No, NSFAS does not accept appeals sent through email.
Conclusion
The National Student Financial Aid Scheme, or NSFAS, gives you every possible chance to rectify any errors during the application process. You can appeal if you are eligible, but it should be noted that your appeal will be useless if you are not fulfilling all the requirements set by NSFAS.