How to Check NSFAS Wallet Balance? (3 Easy Methods)
Are you wondering how to check your NSFAS balance?
You can access your NSFAS account anytime you want.
The National Student Financial Aid Scheme or NSFAS allowance is a bursary scheme funded by the Department of Higher Education and Training. The South African government started this aid to increase the ratio of higher education in South Africa. This aid helps students with financial problems focus on their education without worrying about fees.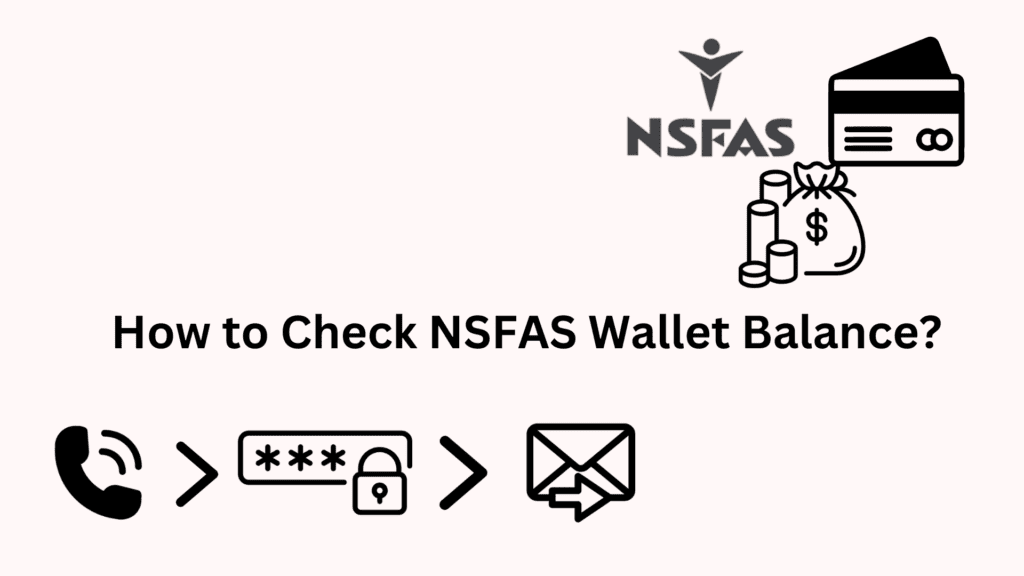 The South African higher education minister Blade Nzimande assigned R47.6 billion for the NSFAS allowance 2023. This allowance will support around 1 million students who want higher education but cannot afford it. South African undergrad students can apply for this allowance.
Undergrad students can choose from a list of universities and TVET colleges for higher education. NSFAS accepts a wide range of institutions, including around 40 TVET colleges and 21 universities. Students enrolling in any of these institutes will get fully funded education once they get selected by NSFAS.
The NSFAS Wallet Balance
NSFAS balance is the amount of money the students receive as a scholarship. This balance covers almost all of the main expenses as well as the minor ones. It includes all fees of tuition and registration and R7350 per year for transport if you live less than 40 kilometers away from the institute.
How to Verify NSFAS Balance Account Using Mobile Phone?
After getting approved for an NSFAS allowance, you automatically get an NSFAS wallet; NSFAS will keep your balance in your wallet so you can access it any time you want. NSFAS allows you to access your balance through your mobile phone by using a USSD code and the internet.
When the National Student Financial Aid Scheme or NSFAS approves you, they will alert you through mobile messages or email. They will send you a 'welcome' message asking you to verify your account then. You will have to verify your account. So, you can check your balance anytime you want by following the following method.
You will get a message or an email, which means you are ready to access your account.
First, you will have to dial *120*176# on your phone.
Next, you will get a prompt; follow it to verify your NSFAS balance account.
Then, you will have to set a password for your digital wallet.
Choose your password carefully, and then your account will be fully verified. Now you can check your amount anytime you want.
Finally, dial the same code *120*176#, and you will get all the details on your mobile phone. You will also get an option to pay for things or withdraw money.
How to Check NSFAS Balance Using the Internet?
You can also check your NSFAS balance by using the internet. The National Student Financial Aid Scheme or NSFAS lets you disburse money that you spend on learning material from any of their cash withdrawal merchants, Checkers, boxers, U-Save, and selected Spar stores.
These stores have a cash withdrawal limit of R200 to R1000 limit. You cannot withdraw more than this amount on the same day. You can check all of these transactions and records by using the internet.
First, visit this link celbux.appspot.com
Next, you will type your mobile phone to log in to your NSFAS balance account.
Then, click on the login tab.
Now, you will get a transactions tab.
Finally, clicking the transactions tab lets, you check your transactions records on how and when you spend your NSFAS balance.
How to Check NSFAS Balance on Mobile Phone by Using USSD Code?
If you do not have access to the internet and want to check your balance, you can still access your NSFAS digital wallet by using your mobile phone. The National Student Financial Aid Scheme makes it easy for students to track their money and see how much money is left with them.
If you have already received an alert, you need to verify your account by linking it to your phone. After verification, you only need a mobile phone (it can even be 2G). Your phone must have an active network for you to check your balance. So, follow the instructions given below to check your NSFAS balance;
First, open your phone and dial this code*134*176#.
Next, you will get a prompt asking you to enter your password to access your account.
Then, you will enter your password as fast as you can and send it.
Now, you will get a list of all the available options for you to access.
Your second option will be 'query.' You must select this option.
After that, you will get another option: 'view cash balance and transactions.'
Finally, you will get the transaction records and your current balance.
FAQs
Is there any expiration time limit for the NSFAS wallet?

No, the NSFAS wallet voucher will never expire. You will be able to use them till your degree completion.

How long does it take to reset a password on NSFAS?

It takes only five minutes to reset your password. If you have your registered id and phone number, it will take only five minutes for NSFAS to reset your password on the myNSFAS portal.

How to find out if my NSFAS account is active?

Follow these steps to check if your NSFAS account is active.
1. First of all, visit NSFAS official website through this website my.nsfas.org.za/
2. Then, sign in by entering your username and password and clicking sign in.
3. In the end, click on 'track funding progress.'
Conclusion
To sum it up, NSFAS is doing an amazing job in using innovative technology to provide ease to the students. All you need is your mobile phone to apply for NSFAS and keep a check on your NSFAS balance.