How to Transfer Money from NSFAS Wallet to Bank Account?
Do you want to transfer your NSFAS allowance to a bank account? You can get your NSFAS account which works even better than a bank account. So the answer to your question is, no, you cannot transfer your allowance money but continue reading to find out why you do not need a bank account for your allowance.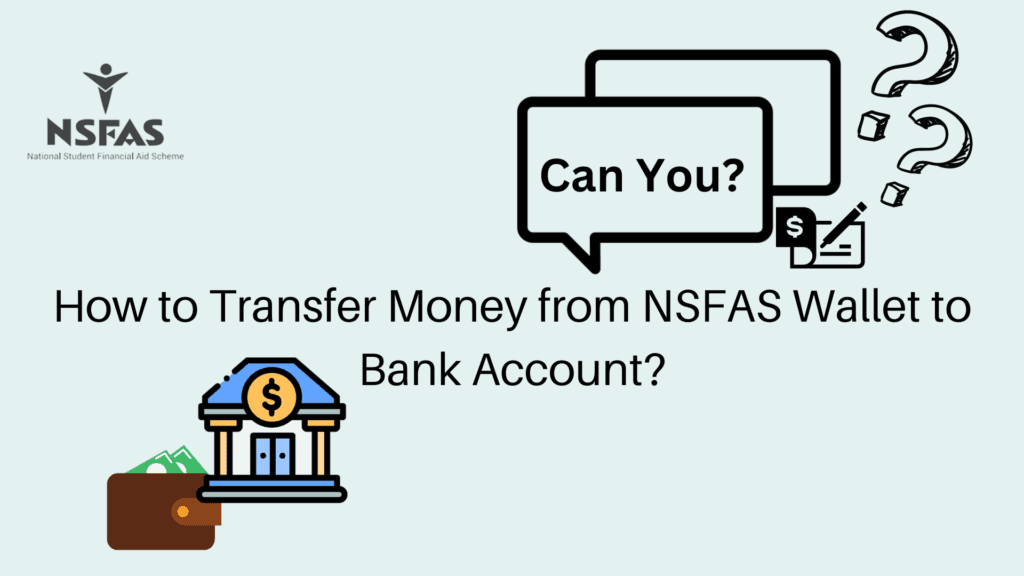 The National Student Financial Aid Scheme or NSFAS is a bursary scheme that the Department of Higher Education and Training funds. South African students needed help with financing their higher education.
After twice colonization and apartheid, the socioeconomic situation made it even harder for students to support their education alone. South African government developed the NSFAS allowance to help pay students' tuition and registration fees.
The bursary scheme also covers their transport and accommodation costs depending on where they live and how much distance they cover to get to the institute. They also pay for students' personal care.
Once students complete their education, they can repay NSFAS slowly and gradually. After employment and starting their own business, once they reach a certain income level, they will be bound to return the borrowed money to NSFAS.
NSFAS Digital Wallet
After the selection process, NSFAS sends funds to students to pay for their tuition fees and disburse their registration fees which are the first expenses once you get into a college or university. NSFAS do so through their celbux system, which gives each student an NSFAS wallet.
NSFAS wallet is like a digital account that enables students to access their funds. The wallet sends them a notification once they receive funds. Students can easily check their wallets by dialing 134176# on their phone or through myNSFAS account. They can check their transaction records and withdraw money in the form of cash.
Difference between Bank Account and Celbux System
A bank account and a NSFAS wallet are not very different. NSFAS account is free of cost and designed to minimize students' financial burden as much as possible.
You do not need to pay to make an account or pay taxes for every transaction. While in a bank account, you will have to pay them to make your account. They will charge you for your sending or withdrawing money.
Celbux system is like a free or student version of a bank account. NSFAS changed their SBux system to celbux. This system allows students to cash their vouchers and withdraw money from their accounts for learning materials like books, stationery, laptop or tablet, etc.
How to Transfer Money from NSFAS Wallet to Bank Account
NSFAS wallet is your most important possession once you start your higher education. So it would be best to keep your passwords safe and never share them with anyone.
Your wallet determines your whole degree, so you must think it will not be safe and easy to keep your money in the NSFAS wallet. So you want to send it to a bank account.
You cannot transfer funds from your NSFAS wallet to your bank account. NSFAS does not allow it. The digital wallet functions like a bank account and provides all the necessary features, so you do not need any bank account. Yes, your NSFAS wallet is as safe as a bank account.
How to Withdraw Funds from NSFAS Wallet?
If you cannot transfer your money to a bank account, it does not mean you cannot make cash transactions. You are allowed to withdraw as much money as you need keeping your account limit in mind. Here is how you can withdraw money from your wallet.
First, dial *126*176# on your phone.
Next, enter and send the password.
Then, select 'voucher' from the list.
Then, type the amount you need and generate a voucher.
Then, save the voucher number and details.
Ultimately, go to any service provider and give them your voucher number.
You will get your cash right away. The bookshop or store you are visiting must be a partner of NSFAS, or your request will be declined. You can then spend the cash on your learning materials.
FAQs
Where can I withdraw my NSFAS wallet?

Shoprite: Usave, Checkers, Spar, Choppies, and Boxer stores allows NSFAS vouchers transaction.

Is there any limit on the NSFAS wallet?

There is a daily limit of R1000 if you withdraw your money from Usave, Checkers, Spar, Choppies, and Boxer stores.
Conclusion
To conclude, the NSFAS wallet is an amazing feature for NSFAS students. A NSFAS allowance account works better than a bank account. The best part is that it is free, so you will not have to pay for your transactions.
After all, students must return the borrowed money once they complete their degree; it is like debt, so why increase your debt when you can get it for free?