How Much Does NSFAS Give TVET Students per Month?
Are you planning on applying for NSFAS for TVET College? The Technical and Vocational Education and Training offer courses on vocational and occupational skills that help students in their practical life, like employment. Moreover, the National Student Financial Aid Scheme or NSFAS, is a bursary scheme in South Africa that helps poor and working-class students with their higher education.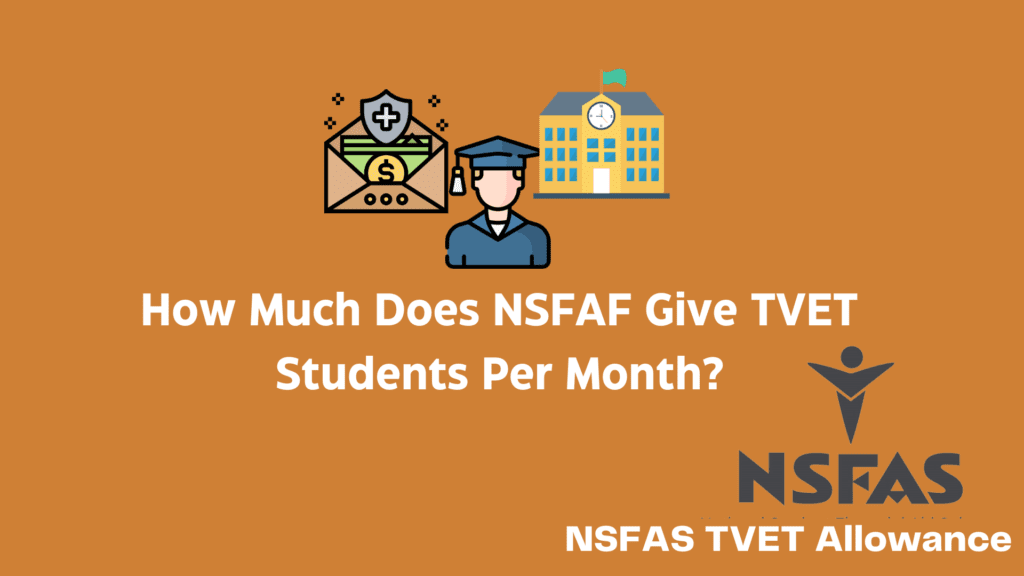 The National Student Financial Aid Scheme, or NSFAS, covers universities and TVET colleges. There is a wide variety of TVET colleges that NSFAS support. So, if you are wondering how much NSFAS gives the TVET students, then you are at the right place because, in this article, I will explain the allocation of the allowances in detail.
NSFAS Allowance for TVET Students
Students studying at the Technical and Vocational Education and Training are also eligible for NSFAS. They can claim almost as much as a university student receives. NSFAS supports almost all of its finances during its degree tenure. Additionally, they get it in the form of allowances.
This allowance covers all aspects of their education like accommodation, transport, incidental, tuition, registration and study material etc. However, the amount of allowance of one student might differ from another student as it depends on the living conditions and location. Let me break down the allowance allocation one by one.
Accommodation Allowance
The student's accommodation allowance depends on their area o living. If they are living at a public residency, they will get a different amount than if they are living in private accommodation. It also depends on their institution. Moreover, TVET students who are living in urban areas will receive R24000 per year or R2000 per month.
Students who are living in a peri-urban area will receive R18900 per year or R1575 per month. However, students living in the rural area will get R15750 per year or around 1312 South African Rand per month. So, the accommodation cost varies from situation to situation.
Similarly, if students are living in public accommodation, they will get R1312 to 2000 and around R5970 if they reside in a private residential unit. Students living at the college's hostel can get R33000 per year or R2750 per month.
Travel Allowance
The travel allowance for Technical and Vocational Education and Training also depends on the distance they cover to reach the institution. Those students who live less than 40 km away from the campus can claim the transport allowance.
The transport allowance for TVET students is 7350 South African Rand per year or around R612 per month. Those students who live at more than 40 km away from a distance then they qualify for the accommodation allowance.
Personal Care Allowance
Apart from the other allowances, TVET students can also get personal care or incidental allowance. This allowance includes things like meals and other minor expenses. So, students can get R2900 per year or 241 South African Rand per month.
Learning Material Allowance
NSFAS also takes the learning materials that a student needs into consideration. Technology is becoming a big part of the education system as the world evolves. Nowadays, students need devices like laptops and tablets etc. Therefore, NSFAS gives a study material allowance of R525 per month for academic books and other tools.
Tuition and Registration Allowance
The first step to entering any institution is registration. Registering into an institution requires a handsome sum of money, which can be very difficult for students to pay. So, NSFAS covers the full registration fee. If students register before getting the NSFAS payments, they can apply for a refund, and NSFAS will pay them back.
Similarly, NSFAS will pay the full tuition fee of the Technical and Vocational Education and Training (TVET) students. So, no matter how much money your institution charges you for the tuition and registration, NSFAS covers you.
When Should TVET College Students Apply for NSFAS Allowance?
The application process for NSFAS usually works in two phases for the TVET students. The first phase starts at the beginning of each year and accepts applications from students applying for TVET colleges. It usually opens for the first semester or trimester.
During the second phase, students can apply in the second and the third trimester during May and September. You can also apply in June and July. Applications are entertained online, and students can apply from their homes.
When Will NSFAS Pay TVET Colleges Students?
The Technical and Vocational Education and Training (TVET) student can expect their first payment in March 2023. As NSFAS reports, "all TVET students whose registration data has been received by NSFAS should receive their allowance by 10 March 2023.
Those students who have completed their registration can start receiving their funds in the coming days. Furthermore, NSFAS also says that the rest of the students registering now will receive their payments soon.
How Many Courses are NSFAS Covering at TVET Colleges?
NSFAS is paying for a variety of courses at the TVET colleges. Currently, TVET colleges are offering 50 courses, including engineering, information technology, construction, and business. Moreover, NSFAS supports these courses and training to meet the country's economic demands and give the poor and underprivileged a chance to improve their state.
FAQs
What are the NSFAS academic requirements for TVET colleges?
The NSFAS academic requirements for TVET College is the grade 9 and 10 qualification. If you want to receive funding for your TVET College from NSFAS, you must be grade 9 and 10 passed.
Which TVET colleges in Pretoria offer NSFAS?
Western TVET College
Tshwane South TVET College
Tshwane North TVET College
South West Gauteng TVET College
Sedibeng TVET College
Ekurhuleni West TVET College
Ekurhuleni East TVET College
Central Johannesburg TVET College
How much is NSFAS personal care allowance for TVET colleges?
The personal care allowance for TVET colleges is 2900 South African Rand per year or 241 South African Rand per month.
To sum it up, NSFAS is giving each of the Technical and Vocational Education and Training (TVET) students around R859 per month and R34250 per year for as long as their degree continues. So, I believe it is a pretty decent amount for students to easily fulfil all their needs, given that the tuition and registration fees are covered completely.