NSFAS Achieves Major Milestone in Supporting Students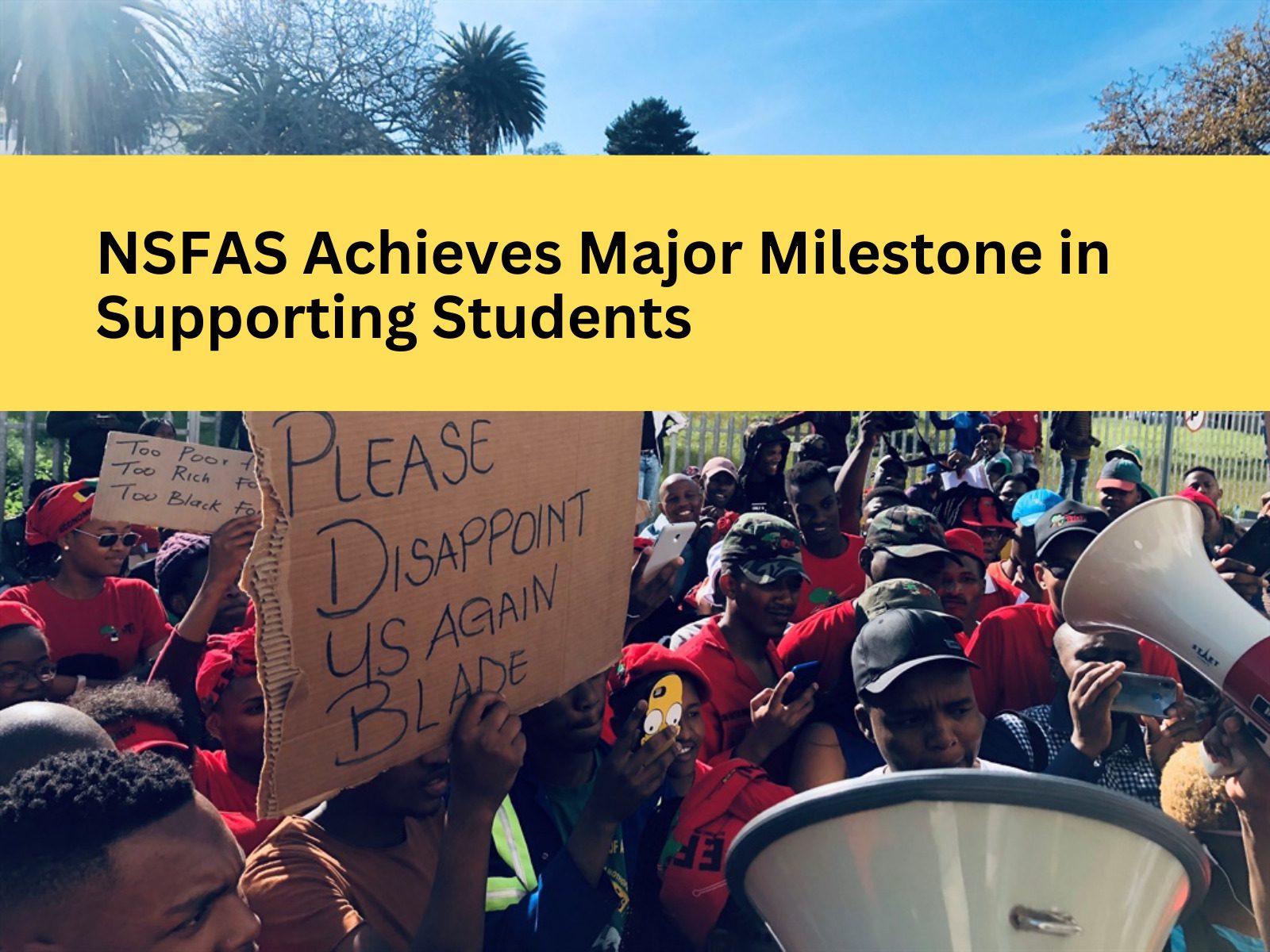 In a significant development for South African higher education, the National Student Financial Aid Scheme (NSFAS) has achieved a remarkable milestone in supporting students in the current financial year. This achievement marks a crucial step toward making tertiary education more accessible and affordable for deserving students. Let's delve into the details of this momentous milestone.
Background: The Need for Support
In 2011, Universities South Africa, formerly known as Higher Education South Africa, highlighted the low student success rate in the public higher education system. This low success rate was a clear indication of the system's dysfunction, with only one-third of the sample population completing a qualification within the prescribed time frame.
As a result, stakeholders in the higher education sector began advocating for the strengthening of both academic support programs and the National Student Financial Aid Scheme (NSFAS). It was clear that a comprehensive solution was needed to uplift students from underprivileged backgrounds.
Dr. Blade Nzimande's Statement
Recently, Dr. Blade Nzimande, the Minister of Higher Education, Science, and Innovation, made an exciting announcement that underlines the government's commitment to supporting students from working-class and low-income families. According to Dr. Nzimande:
"For this current financial year, NSFAS has approved the provisional funding of a record and milestone of 1,083,055 students."
This achievement is nothing short of remarkable, signifying a major milestone in the government's efforts to provide financial support to those who need it most. The budget allocated for these students' education is expected to reach approximately R47.6 billion this year, making it a substantial investment in the future of South Africa.
No Upfront Payments for NSFAS-Funded Students
In another positive development, NSFAS-funded students will no longer be burdened with upfront payments, as they were in the previous year. This means that students can now register for their courses without the financial stress of making initial payments.
The payments to public universities and colleges will be processed seamlessly, ensuring that students receive the necessary funds to support their education. This move is a significant relief for students and their families, who often faced challenges with these upfront payments in the past.
Addressing Concerns: Better Communication
Recognizing the importance of clear and timely communication with students and their parents, the Department of Higher Education, Science, and Innovation is taking proactive steps to address concerns regarding delays in the provision of information to NSFAS. The department will soon engage with university registrars to discuss this matter, ensuring that students receive the information and support they need promptly.
Ensuring Student Well-Being
Apart from financial support, NSFAS is also taking steps to ensure the overall well-being of its students. By providing a housing platform and a direct payment platform, the scheme aims to meet the housing needs of students, thus creating a conducive environment for learning and personal growth.
In conclusion, the National Student Financial Aid Scheme's achievement of funding over a million students in the current financial year is a testament to its commitment to providing opportunities for those who aspire to pursue higher education. This milestone represents a significant step in making education more accessible and affordable for students from less privileged backgrounds, and it reaffirms the government's dedication to uplifting the nation's youth. With the elimination of upfront payments and improved communication, the future looks brighter for South Africa's aspiring scholars.