Strengthening Leadership at NSFAS: New IT Head Appointed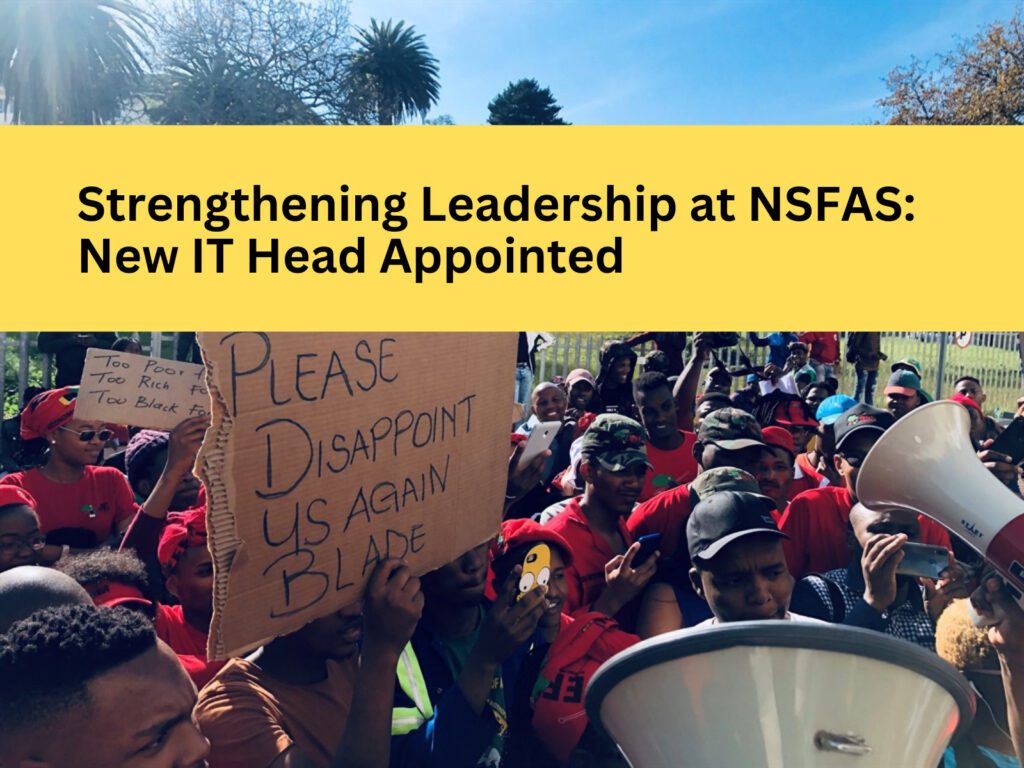 The National Student Financial Aid Scheme (NSFAS) is making significant changes to address its ongoing challenges and improve its financial aid system. Recent developments indicate a strong commitment to leadership stability and the enhancement of its ICT systems. In this blog post, we'll explore the latest changes and initiatives introduced by NSFAS to overcome its issues.
New Leadership in the IT Department
To address the troubled financial aid scheme's ICT needs, NSFAS has appointed an acting Chief Information Officer (CIO). Thulani Melula, who previously served as the senior manager of system support and digital development at NSFAS, has taken on this crucial role. This move comes as part of NSFAS's broader efforts to strengthen its management and leadership.
Challenges Faced by NSFAS
NSFAS, which operates with an annual budget close to R50 billion, is responsible for assisting young people from poor and working-class backgrounds. Over the years, it has faced numerous challenges, including IT system failures and mismanagement. More recently, NSFAS has encountered issues related to its new direct-payment system, defunding of students, non-responsive query systems, and accommodation accreditation backlogs.
Action to Fortify IT Systems
In response to these challenges, NSFAS is taking steps to fortify its IT systems. In September, the organization had to deal with cybercriminals attempting to gain unauthorized access to its payment infrastructure and that of its fintech partners. This incident highlighted the urgency of enhancing the security and efficiency of its systems.
Improving ICT Systems
Masile Ramorwesi, the acting CEO of NSFAS, discussed ongoing efforts to improve the organization's ICT systems. One key initiative is to confirm applicants' identities more efficiently. Currently, NSFAS uses a three-point verification process, checking the provided ID number, name, and surname, as well as parental relationships with data from the Department of Home Affairs. However, this process has limitations, as it allows only 2,500 real-time requests per hour, leading to delayed responses.
To address these limitations, NSFAS is implementing system enhancements that include:
Biometric Authentication: This feature will improve identity verification and enhance security.
Parental and Spousal Relationship Confirmation: A critical aspect of confirming an applicant's eligibility.
Validation of Income Earned: Accurate income validation is essential for effective financial aid distribution.
These enhancements will enable NSFAS to process confirmations more rapidly, reducing response times for applicants.
Leveraging Third-Party Data
To further streamline the application process, NSFAS plans to use third-party data sources, such as the Department of Basic Education, to assess potential beneficiaries before the application cycle begins. This proactive approach will help NSFAS identify eligible candidates more efficiently and ensure that financial aid reaches those who need it most.
Enhancing Internal Systems
Another vital aspect of improving NSFAS's operations is the enhancement of internal systems. These changes will ensure consistency and accuracy, creating a "single truth" within the organization. This, in turn, will enable the NSFAS contact center to respond efficiently to student queries, addressing concerns and inquiries in a timely manner.
Conclusion
The appointment of an acting CIO, along with the implementation of various system enhancements, demonstrates NSFAS's commitment to resolving its challenges and providing better financial aid services to South African students. These initiatives will not only improve the organization's efficiency but also enhance the security and accuracy of its systems, ultimately benefiting the students who depend on NSFAS for financial assistance.