Reasons Why Your 2023 NSFAS Application Could Be Rejected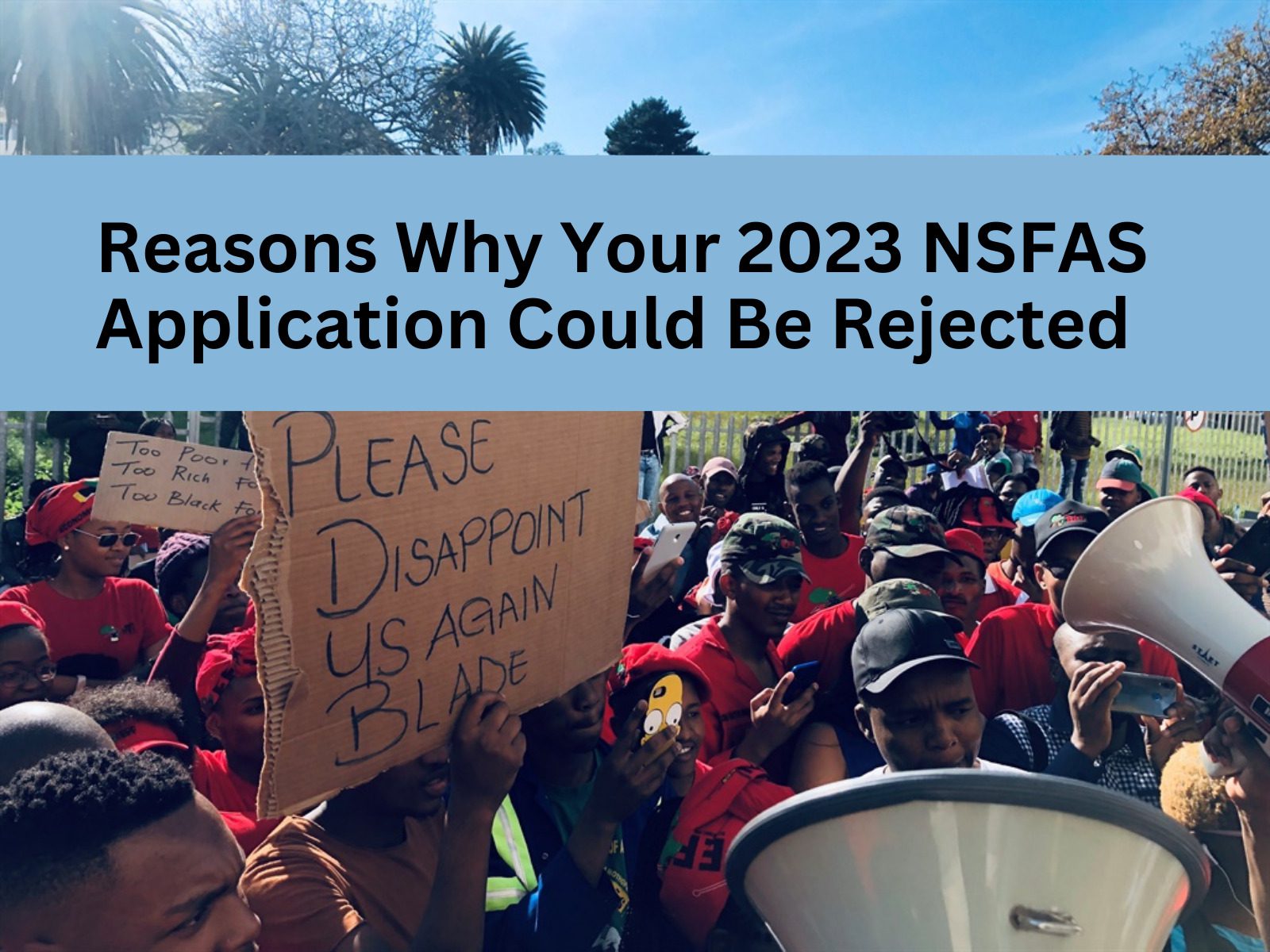 The National Student Financial Aid Scheme (NSFAS) is a lifeline for many South African students pursuing higher education. However, not all applications are successful. If you've applied for NSFAS for the 2023 academic year and your application was rejected, it's crucial to understand why. Here, we break down the common reasons behind NSFAS application rejections, ensuring you're well-informed and can potentially appeal in certain cases.
NSFAS Application Opening and Closing Dates
Before delving into the rejection reasons, let's remember the key dates for the 2023 NSFAS application cycle:
Opening Date: The application period commenced on September 28, 2022.
Closing Date: All applications had to be submitted by January 31, 2023.
Now, let's explore the factors that may lead to your NSFAS application being rejected.
1. Deceased Applicant
Status of NSFAS: Application is deceased
This unfortunate status can result from two scenarios:
Applying fraudulently under the name of a deceased individual.
Incorrect information on the Department of Home Affairs (DHA) system.
If you've received this status, it's essential to visit the DHA to correct the information. Sadly, there's no appeal process for this rejection.
2. Late Application
Status of NSFAS Application: Application received after closing date
NSFAS is strict about deadlines, and they don't accept late applications. If you missed the closing date, your application will be rejected, and there's no possibility of appeal.
3. DHA Error
Status of NSFAS: DHA Error
Sometimes, NSFAS can't locate your information in the Department of Home Affairs database. In such cases, an appeal isn't possible.
4. Missing Supporting Documents
If there are documents missing from your application, NSFAS might reject it. Commonly, the declaration form is omitted, especially for applicants without parents. The good news is that you can appeal this status.
5. Ineligible for NSFAS Funding
NSFAS Status: Ineligible for NSFAS funding, other bursaries funded
If you're already receiving financial aid from another bursary, you won't be eligible for NSFAS. Unfortunately, there's no appeal option for this status.
6. Income Exceeds R350,000
NSFAS Status: Income greater than R350k
NSFAS requires able-bodied applicants to have a household income of less than R350,000 per year. If your household income exceeds this limit, your application will be rejected, and there's no appeal process.
7. Higher Income Threshold for Disabilities
The income must exceed R600k to qualify for NSFAS
Applicants with disabilities have a higher income threshold. If your household income exceeds R600,000 per year, your application will be rejected. However, in this case, you can appeal the rejection.
8. Academic Career Change
The NSFAS status has changed from NC(V) to Report 191 in the academic career
This situation primarily concerns students enrolled in TVET colleges. NSFAS has specific rules for TVET funding, and if you don't adhere to these rules, your application will be rejected with no possibility of appeal.
9. Insufficient Academic Progress
Academic career change: NSFAS status
This status can't be appealed. It typically affects students returning to school who must meet certain academic requirements to qualify for NSFAS funding.
10. Postgraduate and Highest Qualification
Status: highest qualification level achieved in NSFAS
NSFAS doesn't fund postgraduate courses and only supports undergraduate programs. Moreover, if you already hold an undergraduate degree, you won't be eligible for funding. You can appeal this status if you believe it's unjust.
11. Incorrect Progression
Status of NSFAS: incorrect progression
This status can be appealed, but the specifics of the appeal process will vary.
12. N+ Rule Exceeded
Status of NSFAS: N+ rule exceeded
Under the N+1 rule, students generally have N+1 years to complete their degrees. N refers to the minimum duration for a qualification, and +1 allows for an extra year if needed. Conditions apply to appealing this status.
Understanding why your NSFAS application was rejected is the first step towards addressing the issue. In cases where appeals are possible, make sure to follow the appropriate procedures. Always double-check deadlines, income limits, and document requirements to increase your chances of a successful NSFAS application. Education is your path to a brighter future, and NSFAS is here to help.