NSFAS Releases Funding List for Returning Students 2023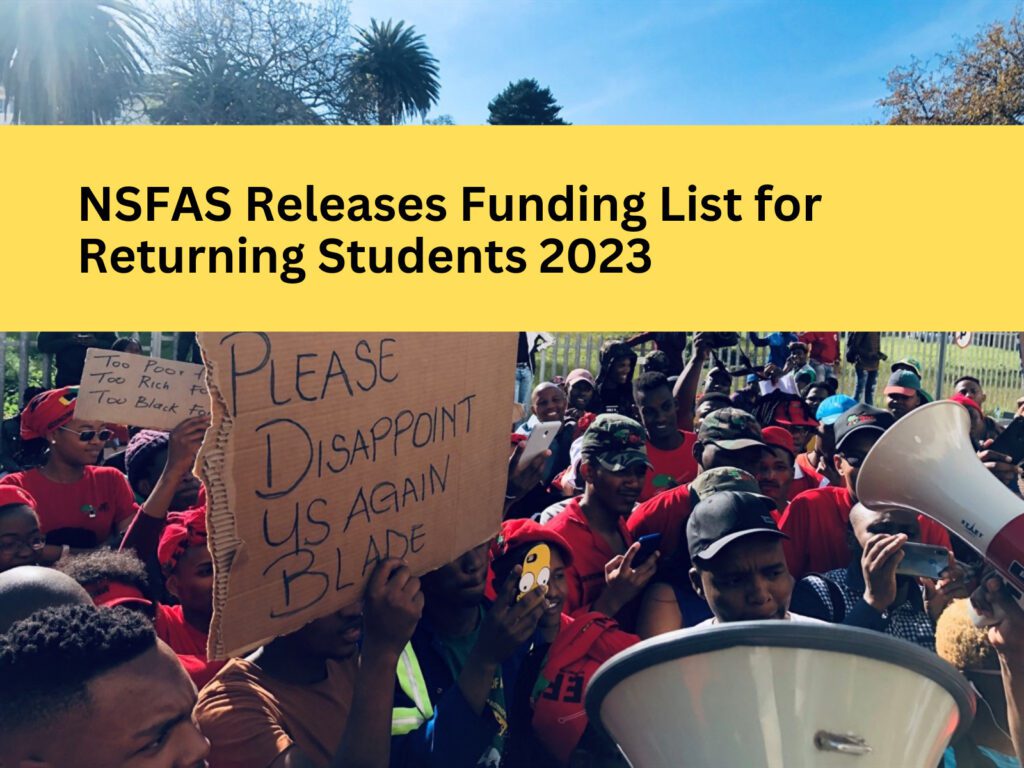 The National Student Financial Aid Scheme (NSFAS) has recently unveiled the much-anticipated funding list for returning students and non-Sassa (South African Social Security Agency) applicants for the academic year 2023. With over 1.6 million bursary applications considered, this release is a significant moment for students seeking financial assistance to pursue their higher education dreams. In this blog post, we'll delve into the details of this release, what it means for students, and what steps they should take next.
Notifications Sent to Colleges and Universities
NSFAS has promptly dispatched the funding list to all accredited colleges and universities across the country. This step ensures that institutions are well-informed about which students have secured financial aid, enabling them to make the necessary arrangements for these students.
Communication to Bursary Applicants
In the days following the release of the NSFAS funding list, students who applied for financial assistance received notifications of their bursary application status via SMS. These messages were sent to the contact details provided by the applicants during the application process. It's crucial for all bursary applicants to check their messages, email accounts, and their myNSFAS accounts for their application results.
NSFAS Approved Funding Applications
NSFAS has approved funding applications for an impressive 941,491 students in 2023. However, it's important to note that approximately 206,781 applications are still awaiting evaluation, and 37,849 students are awaiting third-party confirmation of their financial eligibility.
Application Approved: Students whose application status is displayed as "Application Approved" have been provisionally approved for funding for the upcoming academic year. As soon as NSFAS receives proof of registration from a university or TVET (Technical and Vocational Education and Training) college, payments will commence for the student's studies. If a student hasn't yet registered for an NSFAS-funded course, they are advised to do so at the public institution of their choice.
Application Declined: On the other hand, if a student's application status reads "Application Declined," it indicates that they have not met one or more of the funding requirements.
NSFAS Rejects Some Funding Applications
Regrettably, NSFAS has had to decline 317,335 bursary applications. These rejections are due to applicants not meeting the eligibility criteria set by the financial aid scheme. If you find yourself in this situation, don't lose hope; you have an opportunity to appeal NSFAS's decision.
Appeal Process for Rejected Applications
If your application has been declined, you can appeal NSFAS's decision. The appeal process is vital for students who believe their applications were rejected unfairly. Here's how it works:
After receiving your application results, you must lodge an appeal application within 30 days.
NSFAS has already received 11,239 appeals. The outcome of these appeals will depend on budgetary constraints.
It's important to note that students who applied for funding during the application window from 28th September 2022 to 31st January 2023 will only be considered for appeals.
Seeking Assistance
For students who encounter challenges or require assistance related to their NSFAS funding, support is available at their university or TVET college. As part of NSFAS's commitment to helping students, officials have been deployed to campuses throughout the country. This support network aims to assist students with any issues they may face during their journey to secure higher education funding.
In conclusion, the release of the NSFAS funding list for returning students in 2023 is a significant milestone for thousands of South African students. Whether you've received approval, faced a rejection, or are in the appeal process, it's important to stay informed and engaged with the process. Education is a powerful tool, and NSFAS is working to make it accessible to as many deserving students as possible. Stay tuned for further updates on your funding journey, and don't hesitate to seek assistance if needed. Good luck in your academic pursuits!