NSFAS Portal: Login, Create Account or Reset Password
The National Student Financial Aid Scheme, or NSFAS, is an allowance for undergrad South African students. The Department of Higher Education and Training funds this bursary scheme. This scheme is given to financially weak students who want higher education but cannot afford it.
NSFAS will be allotting around R47.6 for the academic year 2023. This money will help cover students' tuition and registration fees, transport and accommodation fees, and personal care costs. Here is a guide on NSFAS allowances.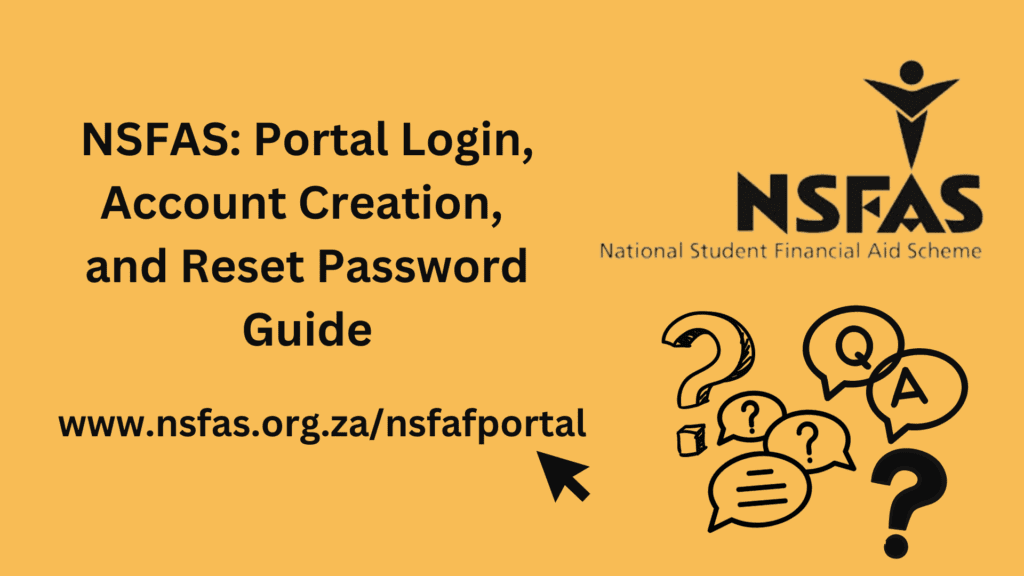 Those students with South African citizenship can apply, and their total and complete household income is less than R350000 or living with a disability, and their income is less than R600000.
Students will have to return the money to NSFAS. NSFAS only lets you borrow the money if you sign on to the money-returning policy. You must start paying them back after employment or starting your own business.
How to Create myNSFAS Student Portal Account?
If you need this allowance, you will have to apply for it. To apply for an NSFAS allowance, you must have your myNSFAS Account.
NSFAS is the Organization while myNSFAS is the student portal provided by that organization.
If you are finding it hard to make your myNSFAS Account, then you are at the right place because I will be sharing the whole process step by step.
First, you will have to open NSFAS official website which is www.nsfas.org.za
Next, you must click on 'myNSFAS,' which will appear on the top right corner of the page. Now select 'create an account.'
Then, it will ask for your personal details. Please fill them out carefully; they must match your identity document (ID).
Then, fill in your contact details. Note that you must fill it in correctly because NSFAS will have to contact you through the information you provide.
Then, you will see the terms and conditions. Read them, then accept them by ticking the box. Note that if you do not agree to the terms and conditions, NSFAS will not be able to proceed with your selection.
Then, you must create a unique password and confirm it. Do not share your password with anyone to avoid scammers reaching your funds.
Finally, click on the 'create' tab. Your account creation is done. Make sure to remember your details, and if some changes occur in your information, revisit the link and make all the changes accordingly.
How to Log in to myNSFAS Account?
Once you make your NSFAS account, you will have to log in to it. You can see all the information on your Account and track your application through your Account. Here is how you can log in.
First of all, visit my.nsfas.org.za.
Next, you will see a myNSFAS tab; click on it.
Then, enter your username and password in the given boxes.
In the end, click on 'sign in.'
How to Reset myNSFAS Account Password?
Your NSFAS account is of crucial importance while applying for an NSFAS scholarship. You will need your Account at every step. So, you must keep your login credentials very safe, but if you cannot remember your password, here is how you can reset it.
First, visit 'The NSFAS student portal.'
Next, you will see 'forgot your password? Click here' tab. Click on it to restore your password.
Then, you will have to enter your ID.
Then, click on 'I can't remember my password.'
Then, press the 'submit' tab.
You will get an OTP pin on your mobile number or email address.
Finally, enter that pin in the given box and click 'create password.' This time think of something that you can remember.
The National Student Financial Aid Scheme, or NSFAS, has created the NSFAS student portal, making it easy for students to contact them. Students can easily create their accounts and apply for the allowance. While, Celbux system makes it even easier to distribute and manage the bursary funds and enables easy access to students.