How to Change Your Contact Details on Intellimali?
Are you looking for ways to update your contact details on Intellimali? Then you are at the right place. Whether you have changed your email address, phone number, or address, keeping your contact information up-to-date is necessary to stay updated and informed regarding your money and allowances.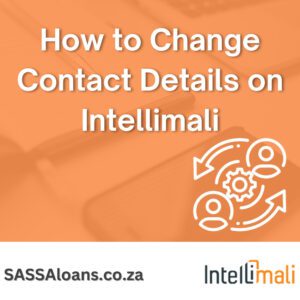 Furthermore, you must inform Intellimali about any changes you made so they can add it to their system.
Now, let me tell you how you can update or add your contact details on the Intellimali system using the following instructions:
Step 1: Navigate to The Website or App
First, visit the Intellimali website intellimali.co.za or download their official app from the google play store or any other authentic source.
Step 2: Provide Login Credentials
Open the website and enter the details required for signing in. For example, if you are a student, enter your student ID number and PIN as your password (never save your password on the browser). Next, click the "next" option.
In addition, if you have forgotten your password, you can click the " forgot PIN" link to reset your password or PIN.
Step 3: Carry out the Verification Process
After signing in, you must perform certain verification steps, such as completing the verification questionnaire. Afterward, you must set up a new and strong password for your account.
Step 4: Navigate to "Account Details" and Add Contact Details
After signing in, search for the "Account detail" tab and click it. It will direct you to a new page; check if your email address or phone number is mentioned in the personal detail section. If your phone number and email address are missing, click on "Add information" to write down your contact details.
Step 4: Inform the Institution and Intellimali
Furthermore, remember that you can not randomly change your contact details; you must inform the funder or institution( in case you are a student). For security reasons, you must contact Intellimali directly if you want to update your contact details. Additionally, send an email to Intellimali from the email address you wish to change to, and if you wish to change your phone number, call them directly.
Ending Lines
If your contact details are missing from your Intellimali profile, you can easily add your personal details by logging in to your account. However, if you wish to update your contact information, you must contact Intellimali directly and inform your funder or institution.
E-mail Address: [email protected]
Phone Number: 087 2300 161