Exciting News: NSFAS Expanding Bursary Application Methods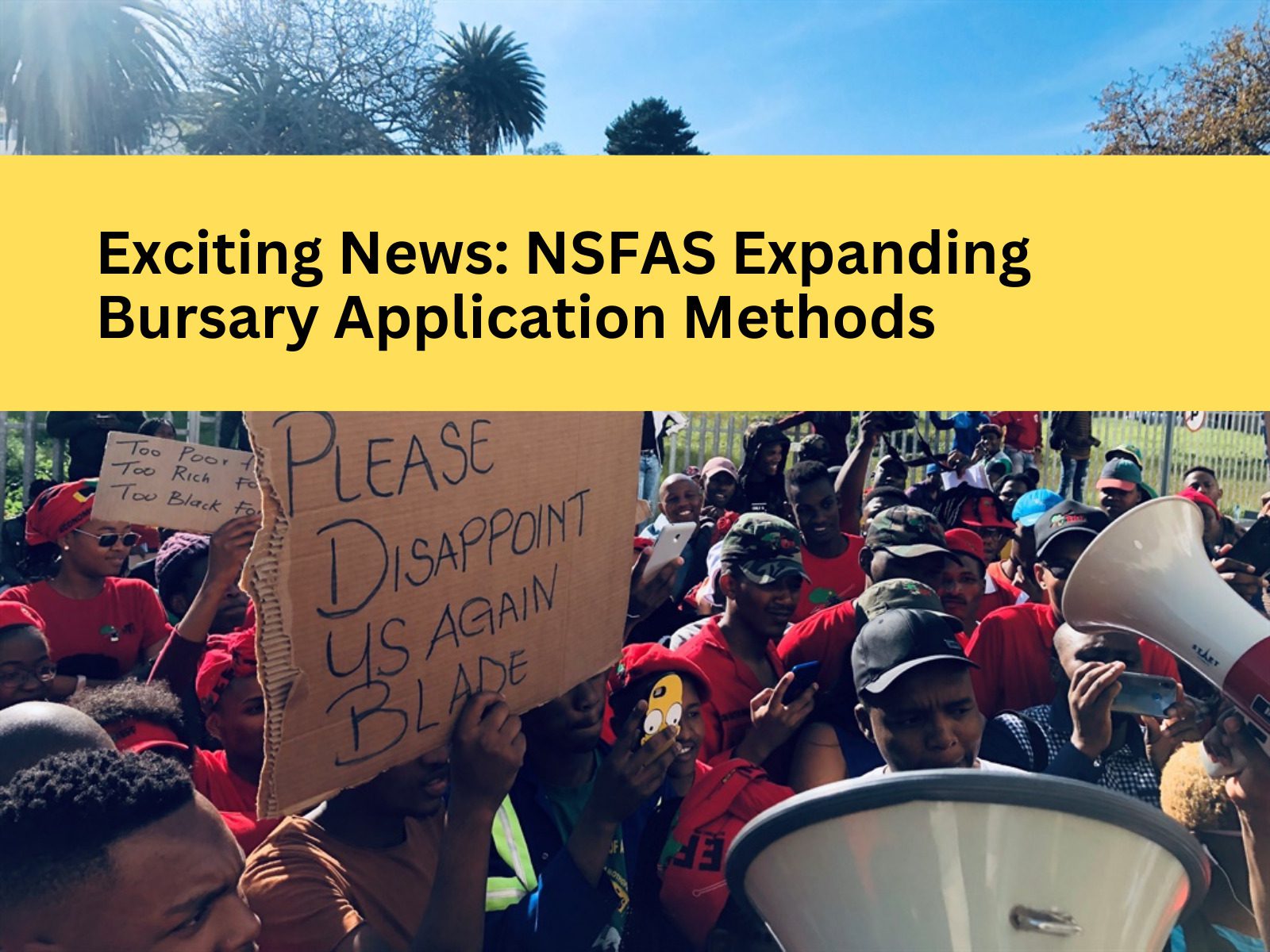 If you're a South African student aspiring to further your education and seeking financial assistance, there's great news on the horizon. The National Student Financial Aid Scheme (NSFAS) is gearing up to launch additional application methods, making it easier for more students to access bursary funding. Let's take a closer look at this exciting development.
New Application Methods on the Horizon
NSFAS is on the brink of introducing innovative application methods that aim to simplify and streamline the bursary application process. These methods include:
WhatsApp Application: Imagine applying for a bursary through a simple WhatsApp message. Soon, this could become a reality for aspiring students.
Mobile App: NSFAS will be unveiling a mobile application, making it even more convenient for students to apply for financial aid.
USSD (Unstructured Supplementary Service Data): This user-friendly and widely accessible method will be another option for students looking to secure NSFAS funding.
While the introduction of these alternative application methods is indeed promising, it's essential to note that NSFAS has temporarily suspended their use due to some technical issues. However, there's no need to worry; NSFAS is diligently working to stabilize the new system and resolve any problems that have arisen.
The NSFAS Bursary: Your Gateway to Education
NSFAS, the National Student Financial Aid Scheme, has long been a lifeline for South African students aspiring to pursue higher education. This bursary program is designed to provide financial assistance to eligible students who plan to attend public universities or Technical and Vocational Education and Training (TVET) colleges.
Applying for the NSFAS Bursary Online
While we eagerly await the launch of the new application methods, students can still apply for the NSFAS bursary through the existing online platform. To help you get started, here's a step-by-step guide:
Create a myNsfas Account: If you're new to the system, begin by creating a myNsfas account. This will be your gateway to applying for the bursary.
Login or Create an Account: If you already have a myNsfas account, simply click on 'login' when you visit the myNsfas website and complete your information. If you don't have an account, click on 'Create account' to get started.
Log into Your myNsfas Account: Once you've created or logged into your account, you're one step closer to accessing financial assistance.
Start the Application: Inside your myNsfas account, click on 'Apply' to initiate the bursary application process.
Answer the Questions: As you progress through the application, make sure to answer all the questions on the screen accurately and honestly.
Upload Required Documents: The application process typically requires you to upload supporting documents, such as proof of income, identity documents, and other relevant paperwork.
Submit Your Application: After completing all the necessary steps, click on 'Submit' to send in your application.
Receive Your Application Reference Number: Once your application is successfully submitted, you'll receive an application reference number. This number is essential for tracking the status of your application.
As we anticipate the launch of the new application methods, it's worth mentioning that NSFAS is continually working to improve and simplify the application process for students across South Africa.
In conclusion, the expansion of application methods by NSFAS is a promising development for students seeking financial assistance for their education. Whether you opt for the upcoming WhatsApp application, mobile app, USSD, or the existing online method, NSFAS is committed to ensuring that every eligible student has the opportunity to further their education. Stay tuned for updates on the release of these exciting new options, and don't hesitate to take advantage of the current online application process to kickstart your educational journey.